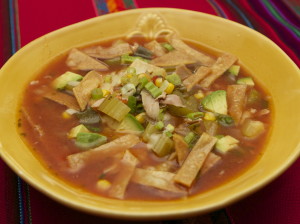 Chicken Tortilla Soup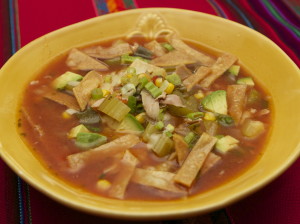 Recipe type:
Soups & Stews
This is a crowd pleaser! My kids just told me over and over how much they loved it!
Ingredients
4 large cooked chicken breast halves or 5 thighs, shredded
1 onion, diced
5 cloves garlic, minced
2 stalks celery, diced
1 t cumin
2 t chili powder
½ t garlic powder
3 bay leaves
3 medium zucchini, chopped into 1 in pieces
1 can of corn
½ 28 oz can crushed tomatoes
6 cups chicken broth or stock (or more if needed)
1 C chopped cilantro
salt & pepper to taste
Garnish options: Monterey Jack cheese, avocado, scallions, cilantro, tortilla chips
Instructions
Boil chicken in broth with a dash of garlic powder, cumin and salt until cooked
Remove chicken, allow to cool and then shred
Add all remaining ingredients to pot and cook until veggies are tender
Add chicken back in and simmer for another 10 min
Garnish each bowl with cheese, chips, etc.
* If you have time, chop corn tortillas into small strips and fry them in oil...MUCH better than store-bought chips!