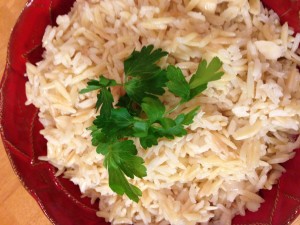 Cristina's Rice Pilaf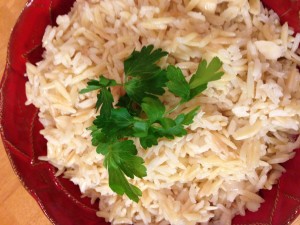 Ingredients
¾ cup long-grain rice (Mahatma for example…never parboiled)
¾ cup orzo pasta
olive oil or vegetable oil
3 T chopped shallot
zest of one lemon
3 cups chicken broth
¼ cup toasted almond slices or slivers or pine nuts
Instructions
In a saucepan, saute the shallots, pasta and rice until the pasta is lightly browned and the rice is opaque white.
Add the lemon zest and nuts saute a bit more.
Add chicken broth and taste for salt. Pepper is optional.
Bring to a boil and then turn way down to a slow simmer.
Cover and let cook until all broth is absorbed and rice and pasta are fully cooked.