Easy Tuscan Lemon Chicken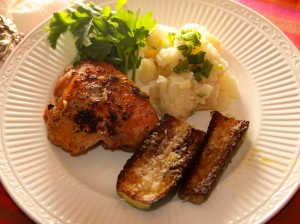 Ingredients
4-8 chicken thighs (I use bone-in, skin on, but you can use any chicken you like: boneless, skinless thighs or even breast)
4-6 cloves chopped garlic
juice of one lemon (at least)
1 T dried oregano
1 t salt
1 t pepper
Instructions
Preheat oven to 400F degrees (375F for breasts).
Combine garlic, lemon, oregano, salt and pepper in a small bowl.
Rinse off chicken and dry off. Put your chicken in a baking dish skin side down. Spoon small amount of mixture over each thigh, then turn them all over and do the same with the rest of your mixture.
If you like your food well-seasoned, sprinkle each thigh with more salt and pepper, as I do. Do not cover.
Bake for approx 30 minutes or until you can pierce with a knife and the juices are clear. The chicken should brown nicely on top.
Notes
Serve with my rice pilaf (link) and broccoli or green beans.