Lentil Soup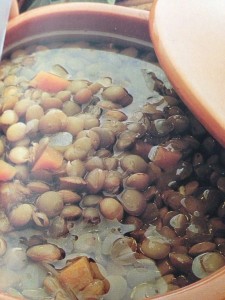 Recipe type:
Soups & Stews
I learned to make this lentil soup in Italy. It is delicious and always hits the spot. This is perfect for a lenten meal without meat and also perfect with sausage or cubed pork chop. Don't forget to eat with fresh, crusty bread!
Ingredients
1 lb lentils (500g)
1 medium onion, chopped
1-2 medium carrots, small dice
1-2 celery stalks, small dice
2 cloves garlic, minced
1 bay leaf
3 leaved fresh sage, minced
2 t fresh rosemary, minced (or 1 t dried)
salt & pepper to taste
olive oil for garnishing
Instructions
Soak lentils for 3 hours if you have time in advance, drain
Cover lentils in pot with cold water by two inches
Add onion, carrots, celery, garlic and bay leaf
Cover, bring to a low boil and cook for 40 minutes
Add water if needed
Remove bay leaf and add sage and rosemary
Simmer for another 10 minutes
Add salt & pepper to taste
Garnish with good extra-virgin olive oil in each bowl
*If you don't soak in advance, your cooking time will be longer. The lentils should be tender but not mushy.