Pan-Fried White Fish with Tomato Salsa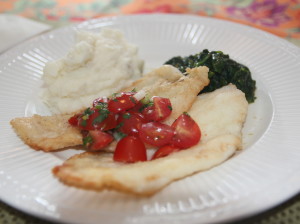 The day I came up with this one was a happy day for all. The salsa makes it!
Ingredients
5 filets of white fish such as cod, tilapia, haddock, or sole (use as many filets as needed for your family)
½ C flour
approx 2 T butter, 2 T olive oil
salt & pepper
For salsa:
grape tomatoes, diced (or cherry)
green onions, finely minced
cilantro, finely chopped
lime juice
salt
Instructions
Season flour with salt & pepper
Dredge each filet in flour and lay in one layer on plate
Heat large fry pan to medium high heat and add about a T of butter and T of olive oil (coat bottom of pan)
Fry fish filets until golden brown on one side and flip to brown on other side
Mix all salsa ingredients and serve on each plate on top of fish...delish!