Shelagh's Chicken curry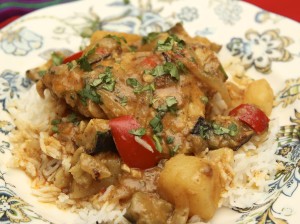 I spent several of our first years in Italy hanging out with my dear friend Shelagh. She learned to make curry from her South African mother and passed the recipe on to me. I never thought I'd be able to make good curry so I was thrilled!
Ingredients
2 C basmati rice
2 cloves garlic, chopped
1 onion, chopped
1 red pepper chopped
1 T butter
2 T olive oil
6 chicken pieces, legs & thighs
2 potatoes, peeled and chopped into chunks
curry powder to taste (curries are different so hard to say how much but be generous)
2 chopped fresh or canned tomatoes (or ⅓ C puree)
1 can non-sweetened coconut milk
salt & pepper
Optional: plain yogurt & curry to marinate chicken in
Instructions
Recommended: marinate chicken overnight in yogurt and curry powder
Cook rice as directed
In the meantime, sauté garlic, onion & red pepper in butter and olive oil
When onions are translucent, add chicken (season with salt & pepper first) and potatoes and brown
Add curry and stir for 1 minute
Add tomatoes, coconut milk and a little water to almost cover chicken
Add salt, pepper and more curry as needed to make a very seasoned, thicker sauce
Cook until chicken and potatoes are cooked through
Optional garnishes: cilantro (I highly recommend!), green onions, cucumber, peanuts, raisins, apricot jam, dried coconut, etc.